The Survivorship Ritual Abuse and Mind Control 2018 Conference
When:
Regular Conference - Saturday and Sunday May 19 - 20, 2018
Clinician's Conference - Friday May 18, 2018
Where:
Courtyard Marriot Long Beach Airport
3841 N. Lakewood Blvd
Long Beach, CA 90808
http://www.marriott.com/hotels/travel/lgbcl-courtyard-long-beach-airport/
Guests may call for room reservations at 1-800-321-2211 and ask for the "Survivorship" group rate or code "SRVS" rate. Standard 1 King Bed with sofa bed or Standard 2 Queen Beds $139.00 per night (discounted rate)
Complimentary lunches will be provided for conference attendees.
Complimentary Wi-Fi access throughout the entire hotel
Complimentary shuttle transportation to/from LGB airport
Fitness center, outdoor pool and whirlpool
Continental breakfast included in rate for up to 1 person per room
Video Presentations from The Survivorship Ritual Abuse and Mind Control 2017 Conference  https://survivorship.org/presentations-from-the-survivorship-ritual-abuse-and-mind-control-2017-conference
Ritual Abuse Evidence https://survivorship.org/ritual-abuse-evidence/
Prices:
Fri: $150 - clinician's conference
Sat: $100 - $50 low income survivors
Sun: $100 - $50 low income survivors
Register and pay before February 1, 2018:
Prices:
Fri: $125 - clinician's conference
Sat: $80 regular price - $40 low income survivors
Sun: $80 regular price - $40 low income survivors
Conference Registration
(Please read the entire webpage before registering.)
Registration is not guaranteed, please wait for approval before making travel arrangements. Please preregister at: conference2018@survivorship.org by cutting and pasting the form below into an e-mail.
After acceptance you may pay by PayPal by using the PayPal buttons below.
Or mail your payment to:
Survivorship
881 Alma Real Drive Ste 311
Pacific Palisades, CA 90272
Name:
(please include names and individual addresses of all registrees, thanks.)
______________________________________
Street: ____________________________
City: ___________________State:______
Zip:________E-mail_________________
Refund Policy:
Cancel before 4/7/18, 75% refund.
No refunds after 4/7/18.
Pre-registration and acceptance is required prior to payment.
Please write conference2018@survivorship.org  for more information.
If you are interested in speaking at our conference, please write conference2018@survivorship.org  for more information.
Survivorship is one of the oldest and most respected organizations supporting survivors of extreme child abuse, including sadistic sexual abuse, ritualistic abuse, mind control, and torture. Survivorship provides resources, healing, and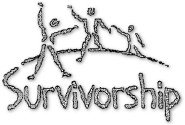 community for survivors; training and education for professionals who may serve survivors; and support for survivors' partners and other allies. The organization functions as a support for survivors who may be isolated emotionally or geographically. Through community outreach and training, Survivorship also raises awareness about these difficult issues. The purpose of the conference is to help survivors of ritual abuse and their allies. The conference is for survivors, co-survivors, supporters, helping professionals and others interested in this topic.
In order to protect the health of conference attendees with environmental illness, please

do not wear fragranced products (including "natural" fragrances) or clothes laundered in fragranced products to the Survivorship conference. Thank you.